AccuBuild #1 "Easiest To Use Construction Accounting Software" on G2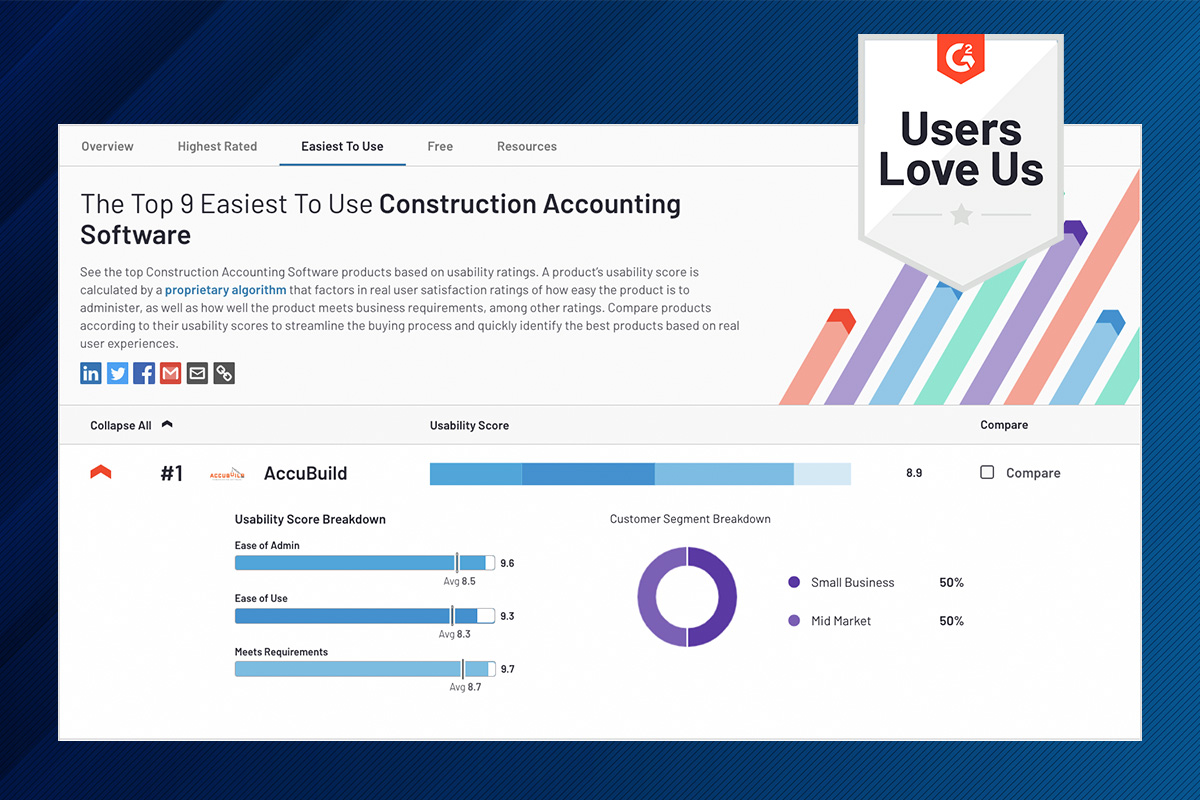 G2 Crowd is a trusted peer-to-peer review and technology marketplace where professionals discover the best software tools.
The review site pulls on more than 100,000 user reviews to help you make better purchasing decisions. Technology buyers, investors, and analysts use the site to compare and select the best software based on peer reviews and synthesized social data.
We're proud to share that users have ranked AccuBuild #1 as "Easiest To Use" for Construction Accounting Software!
AccuBuild software specifically outperformed on metrics such as 'ease of use, 'ease of admin', and 'meets requirements'. These metrics drew from users in both small and mid market companies.
This ranking is especially meaningful since AccuBuild is a complete and full-featured construction accounting and ERP system. We're proud to be delivering software with both deep capabilities and intuitive usability.
What the Reviews Are Saying
"AccuBuild is user friendly and meets or exceeds our needs within each facet of our operations, from Mobile Time Card reporting to Change Order Entry. There is nothing AccuBuild has not been able to do for us."
– Brittany H
"My favorite system is the Billing system. It is very efficient and saves a lot of time compared to Quickbooks."
– Administrator in Mid-Market Construction Firm
"Accubuild is very user friendly and if you cannot figure something out they are there to help you."
– Small Business User
"When there is a question, Accubuild is quick to resolve it. Megan has been a big help on support when needed. That kind of support is not available at the other companies out there."
– Megan D
"The payroll system is very user-friendly as well as all other accounting functions."
– Administrator in Mid-Market Construction Firm
Learn More
Are you interested to learn how AccuBuild's construction accounting software can help your business? Schedule a 'live' demo and find out how easy it is to use AccuBuild.